For members of The Church of Jesus Christ of Latter-day Saints in Haiti, Sunday, September 1, 2019 was very different from others as thousands gathered in three different sessions to participate in an event that marks a milestone in the history of the Church in this Caribbean country: the dedication of the Port-au-Prince Temple.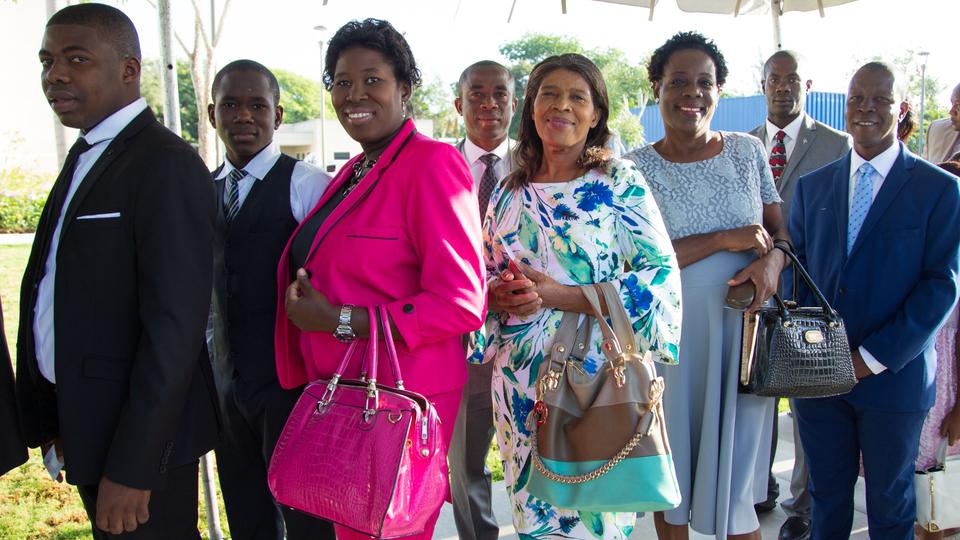 Elder David A. Bednar, of the Quorum of the Twelve Apostles, presided over the dedication of the temple.  He performed the cornerstone ceremony which symbolizes the completion of the construction of the temple.  The temple is now prepared for its intended sacred purpose.  Elder Bednar was accompanied by his wife, Sister Susan Bednar, members of the Caribbean Area Presidency and their respective wives.
The Port-Au-Prince  Temple is number 166  of dedicated temples worldwide and the second in operations throughout the Caribbean region. This will be the first time where many Latter-day Saints of this beautiful nation will come to make sacred covenants with God. The message of the gospel of Jesus Christ provides the hope of living together in love and joy for eternitiy.
During the cornerstone ceremony, prior to the dedication, Elder Bednar asked the choir to sing the first verse of the hymn "The Morning Breaks" and changed the words of the hymn so that in the end it with "Majestic rises on Haiti". Those present were elated with the changes.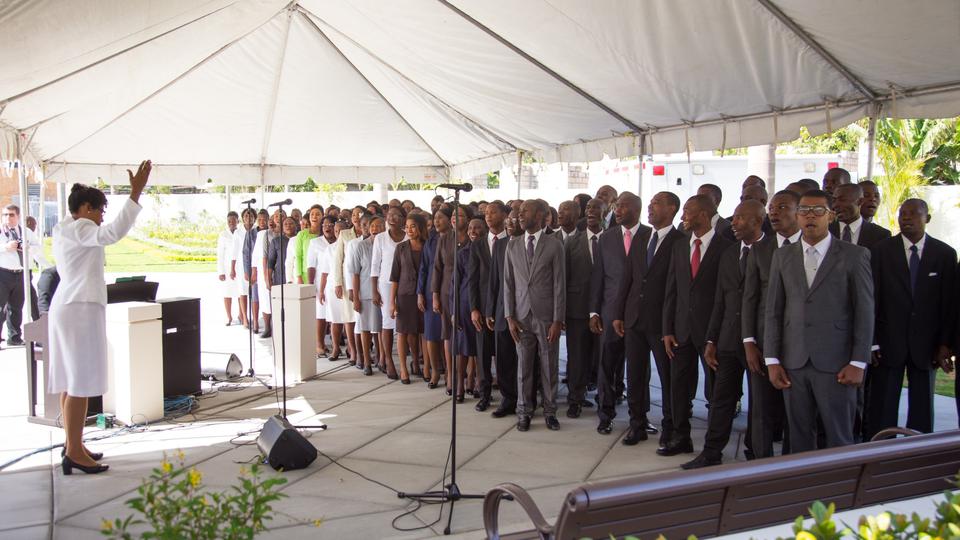 "The cornerstone is the Lord Jesus Christ. This is His house, the House of the Lord. We love and serve you. May everyone remember what happened this day as a symbolism that Jesus Christ is our cornerstone", said Elder Bednar during the public ceremony that took place in front of reporters and journalists from 23 local media.
During an interview with Elder Bednar before the dedication, he referred to the impact the temple will have for the entire Haitian nation.
"The House of the Lord is the place where the members receive the highest, the most important of those ordinances and covenants, and that changes individuals. You change communities, you change nations by beginning with the individuals. In those ordinances the power of Godliness is made manifest. It strengthens the people, it gives them a vision for who they are and why they're here. It gives them hope. And that's the reason, that in all the earth, the Lord reveals that temples should be constructed", said Elder Bednar.
Among the attendees were pioneers of the Church in Haiti, who expressed their emotional impressions by having a temple in their nation, which will greatly facilitate attendance to it.  The closest temple to them is the Santo Domingo Temple, which is approximately seven hours away from them.