During the last weeks of May 2020, Latter-day Saint Charities reached out to the Barbados Salvation Army in several locations around the island. On May 22, 2020, they donated numerous parcels of food to Capt. Broome of the Speightstown Salvation Army. This area of St. Peter has been especially affected by the COVID-19 lockdown and subsequent high levels of unemployment.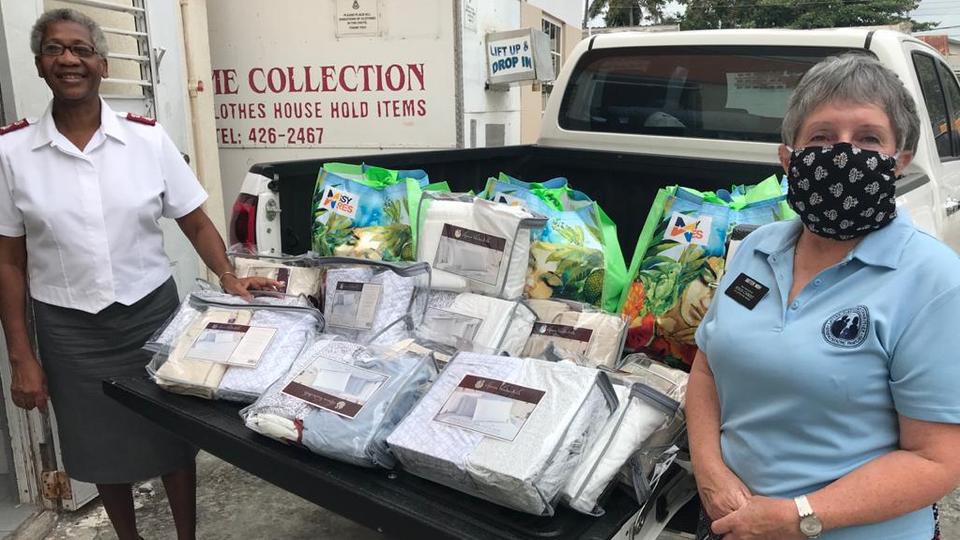 On May 23, 2020, Latter-day Saint Charities donated more food parcels to the Salvation Army Checker Hall, St. Lucy location. Major Allwood received the donations on behalf of her organization. Several needy families were immediately given assistance and expressed their gratitude in a way that left the humanitarian missionaries humbled and thankful that they could assist. Because, in many cases, the breadwinner of the family has lost their job due to the crippling effects of the global pandemic on the Barbados economy, there are more and more requests for assistance every week. The Salvation Army also runs a pre-school to provide support to low income families in the area.

Latter-day Saint Charities were also able to assist the Precious Jewel Day Care Centre, located in Oistins, Christ Church. This Centre is also run by the Salvation Army. Their dire need of appliances has now been assuaged by the donation of a stove, washing machine, food processor and several standing fans. Sheets for the cots and playground equipment will be delivered in the near future. Principal Kelly Hall was overjoyed to receive these items and said it's wonderful to have a stove with an oven that works! Major Brown of the Salvation Army described the donation as the answer to her prayers.

More food packages were also donated to the Salvation Army for their Corps at Four Roads, St. John, and Wotton, Christ Church. Major Wilkinson of Bridgetown also gratefully accepted further food parcels together with bedlinen, in addition to the pillows and mattresses received earlier in May.

The donations are part of the Latter-day Saint Charities world-wide efforts to provide help, supplies and support to those in need, especially during the global pandemic. Latter-day Saint Charities believe that there is hope and that the best way to cope with emergency situations is to help each other and strengthen families. They are working closely with partners worldwide to provide emergency relief and hope to those in need.